George Nelson, a founding father of American Modernism
Born 1908 in Hartford, Connecticut, industrial designer, architect and journalist, George Nelson was one of the founding fathers of American Modernism. While Director of Design for the Herman Miller furniture company between 1945 and 1972, Nelson, and his design studio, George Nelson Associates, Inc., designed much of the 20th century's most iconic modernist furniture.
Nelson attended Yale University after graduation from Hartford Public School in 1924. He seemingly stumbled into architecture originally, ducking into Yale's architecture school during a heavy rain storm and spotting an exhibit of students' work.
Even at undergraduate level, George Nelson met with recognition, being published in Pencil Points and Architecture magazine. In 1928, he graduated with a degree in architecture. During his final year of architecture, he was hired by Adams and Prentice as a drafter.
From 1929, Nelson worked as a teacher's assistant while continuing his studies. He went on to attain a second BA, this time in Fine Arts, which he received in 1931. The following year, while preparing for the Paris Prize in architecture, George Nelson won the Rome Prize, and was awarded a paid-for year in Rome studying architecture with the bonus of accommodation in a palace in the Eternal City's downtown.
Using Rome as his base, Nelson travelled through Europe meeting and interviewing a number of modernist designer-pioneers for Pencil Points magazine, such as Ludwig Mies Van Der Rohe, who questioned George on Frank Lloyd Wright; Nelson embarrassingly admitted he knew little about Wright at the time. He would later work with Wright on an issue of Architecture Forum, marking Wright's comeback from relative obscurity.
George Nelson returned to the US in 1935 to devote himself to writing. With his articles in Pencil Points, he introduced the work of Walter Gropius, Mies van der Rohe, Le Corbusier and Gio Ponti to North America.
In the same year, Nelson joined Architectural Forum, where he was first associate editor (1935–1943), and later consulting editor (1944–1949). Here, he defended modernist principles, arguing against colleagues who he felt made too many concessions to the commercial forces of the industry.
Like many designers of his time, George Nelson believed that their work should be to primarily better the world. In his view, nature was already perfect, and as such, man should follow the 'rules' of nature's design expertise.
"Where the limitations were most rigorous, as for example in a factory, or in a skyscraper where every inch had to yield its profit, there the designers were happiest and the results most satisfying… but, let a religious belief or a social ideal replace the cubic foot costs or radiation losses, and nothing happened. There is not a single modern church in the entire country that is comparable to a first-rate cafeteria, as far as solving the problem is concerned," commented Nelson.
At this time, George Nelson was mainly writing for architectural digests and had yet to venture into actual design, presenting the solutions to modern living that he would later become famous for.
Yet, during this period, George Nelson spent a great deal of time interviewing and exchanging ideas (much to his later benefit) with the other founders of the modernist architecture movement of the forties, including Eliot Noyes, Charles Eames, and Walter B. Ford, all of whom he would later collaborate with.
By 1940, Nelson had become known for several innovative concepts. His post-war book, Tomorrow's House, co-authored with Henry Wright, introduced the concept of the 'family room', and the 'storage wall'.
The storage wall developed the idea of recessed, built-in bookcases or shelving occupying space that had previously been lost between walls. It was an idea advanced while writing the book, when Nelson's publisher was pressuring him to finish the section on storage. Tomorrow's House found its innovation in the manner in which it approached modern design, not as a case of styles, but instead how to solve living space issues and making the best of what was available.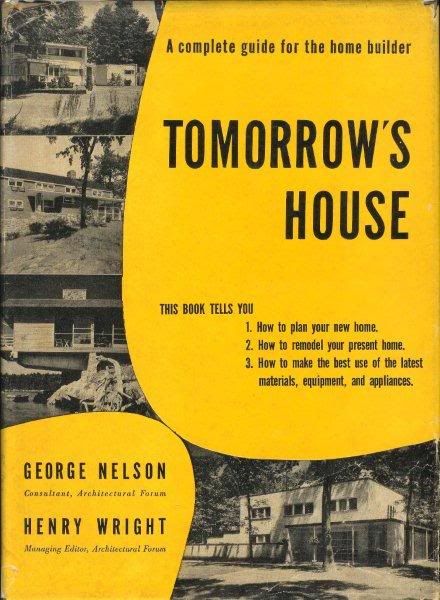 The Herman Miller furniture company was producing mostly conventional, wood-centric designs in 1945. Its chairman, D.J. Depree called on George Nelson to be the company's Director of Design after reading Tomorrow's House, despite Nelson possessing no previous furniture design experience.
Supposedly, Depree was more interested in Nelson's insights into making furniture innovative and ultimately useful. He offered Nelson a contract that allowed him the freedom to work outside of Herman Miller, and to use designs from other architects that Nelson had worked with.
George Nelson became the Director of Design for Herman Miller in 1945, and held the position until 1972. The first Herman Miller catalogue produced by Nelson was released in 1945. Over the following years, it would include some of the most iconic home furnishings of the 20th century.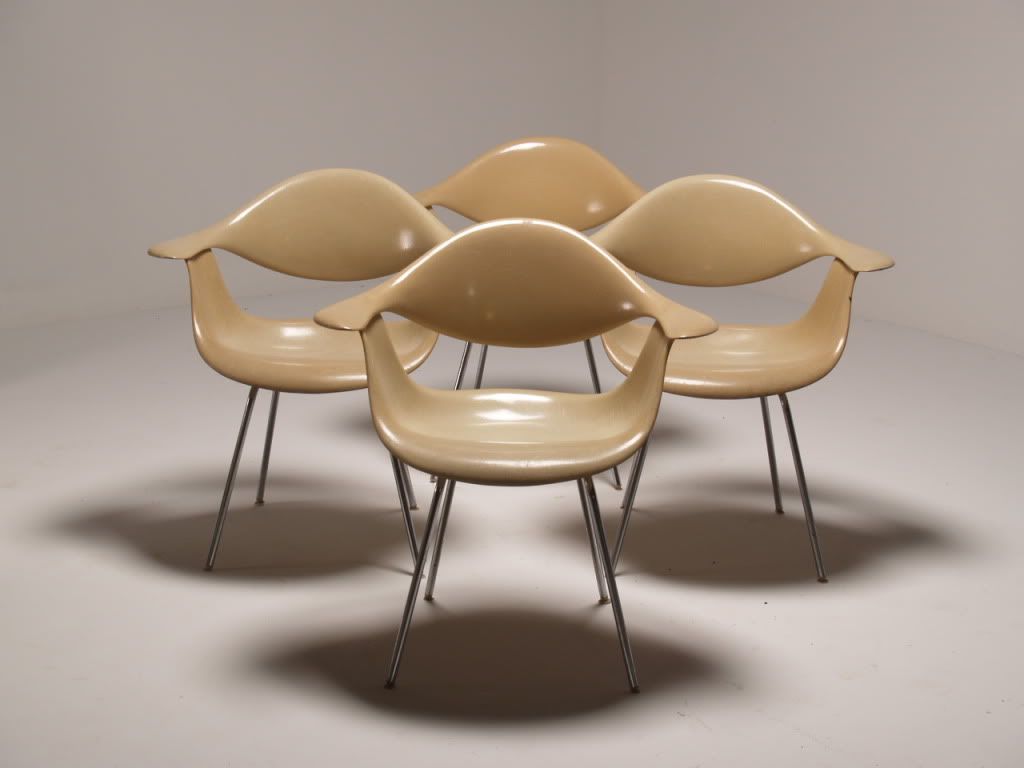 Under Nelson's guidance, names such as Ray and Charles Eames, Harry Bertoia, Richard Schultz, Donald Knorr and Isamu Noguchi all worked for Herman Miller in what became a successful period for the company, and for George Nelson – despite Bertoia and Noguchi later expressing regrets regarding their involvement.
Utilising his success as Director of Design for Herman Miller, George Nelson opened a design studio in New York City in 1947. On October 26, 1955 he incorporated it into George Nelson Associates, Inc., and moved to 251, Park Avenue South.
The studio was successful in partnering many of the top designers of the era, who were soon designing for Herman Miller under the George Nelson label. Among the noted designers who worked for George Nelson Associates, Inc. were Irving Harper (who created the still-used Herman Miller logo in 1947), George Mulhauser (actual designer of the Coconut Chair), Robert Brownjohn (set designer for the James Bond film, Goldfinger), Don Chadwick, Bill Renwick, Suzanne Sekey, Ernest Farmer, Tobias O'Mara, George Tscherney, (who designed the Herman Miller advertisements), Lance Wyman, and John Pile.
With his studio, Nelson enacted new practices for the involvement of design in all aspects of the company, revolutionising the practice of corporate image management, graphic programs, and signage. During its time, George Nelson Associates, Inc. worked with most of the largest companies and firms of its era, including many Fortune 500 bodies.
The George Nelson Associates, Inc. catalogue and exhibition designs for Herman Miller, made modernism the most important driving force in the company. From his start in the mid-forties until the mid-eighties George Nelson Associates, Inc. partnered with most of the modernist designers of the time. This was both the result of Nelson's time as a magazine editor, and because of Nelson's writing. His skill as a writer helped legitimise and stimulate the field of industrial design by contributing to the creation of Industrial Design magazine in 1953.
Nelson wrote extensively, published several books, and organized conferences like the Aspen design gatherings, where for more than 30 years he was the guiding force.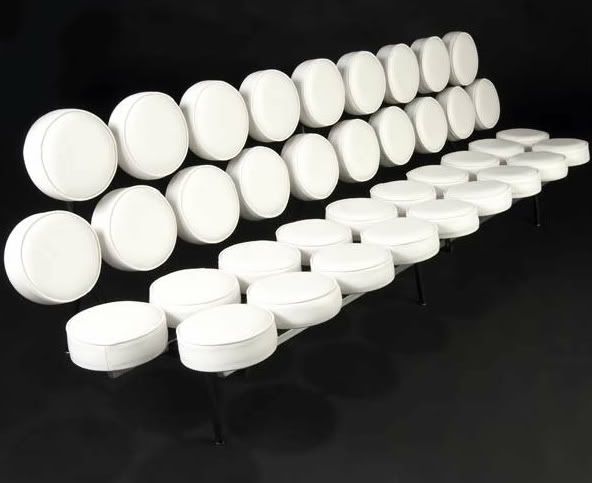 In 1971, he received a grant from the Graham Foundation for his project Hidden Cities. One of George Nelson's areas of interest was the reduction of pollution. Through his attempts to reduce all forms of pollution, including visual, audio, and chemical, Nelson pioneered the idea of the outdoor shopping mall, first using the idea in a proposal for the city plan of Austin, Texas, which was not used.
George Nelson Associates, Inc is also known for designing a large series of wall and table clocks for the Howard Miller company. Nearly 300 classic wall clocks for Howard Miller Clock Company (including the Ball, Kite, Eye, Turbine, Spindle, Petal and Spike clocks, as well as a handful of desk clocks) are currently available from Vitra. Most are now considered to have been designed by Irving Harper.
Recently, it has become known that many of the designs George Nelson accepted credit for were actually the work of other designers employed at his studios. Examples of this include the Marshmallow sofa, which was actually designed by Irving Harper, and the Action Office, for which Nelson won the prestigious ALCOA Award, neglecting to mention that it was largely designed by Robert Propst.
John Pile, a designer who worked for Nelson in the 1950s, commented on this practice: "George's attitude was that it was okay for individual designers to be given credit in trade publications, but for the consumer world, the credit should always be to the firm, not the individual. He didn't always follow through on that policy though."
In an interview in Metropolis in 2001, Irving Harper also commented on this practice: "...there always had to be one name associated with the work. We couldn't just spread it around… that's fine. I'm grateful to George for what he did for me. While he was alive, I made no demands whatsoever, but now that he's gone, whenever the Marshmallow Sofa is referred to as a 'George Nelson design', it sort of gets to me. I don't go out of my way to set things right, but if anybody asks me who designed it, I'm perfectly happy to tell them."
Nonetheless, George Nelson is remembered as one of the most seminal designers and articulate and eloquent voices on design and architecture in the US of the 20th century. He retired with the closing of his studio in the mid-1980s and died in New York City in 1986.
<< With the recent interest in designers' rights, how do you feel about Nelson taking credit for his associates' work? Please leave a comment >>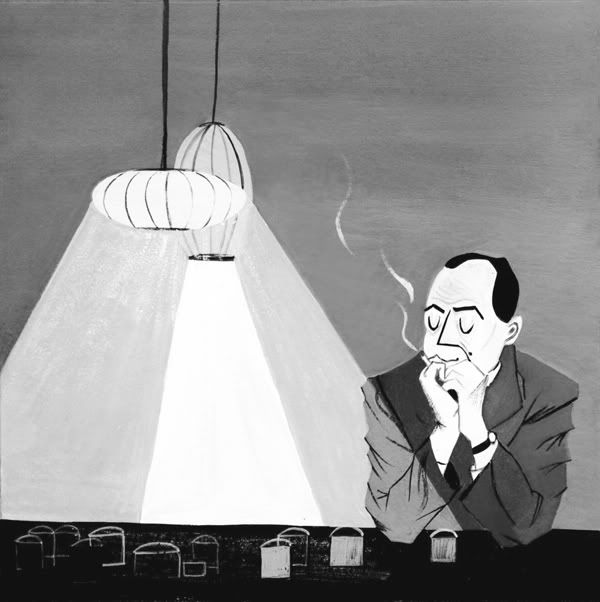 Image references:
George Nelson Associates Coconut chair and ottoman (Herman Miller, 1956), sold by Wright, Chicago, IL.
George Nelson Associates Marshmallow sofa, sold by Rago Modern Auctions.
George Nelson Associates Birdcage wall clock (Howard Miller, 1961), sold by Wright, Chicago, IL.
George Nelson jewellery chest on stand (Herman Miller, circa 1955), sold by Philips de Pury & Company.