Pierre Cardin: The evolution of design
Pierre Cardin has been among the five best known Frenchmen in the world since 1960. Born Pietro Cardin to French parents on 7 July, 1922 at San Biagio di Callalta, Venice, he is best known for his avant-garde style and Space-Age designs, preferring geometric shapes and ignoring the constraints of form and surroundings.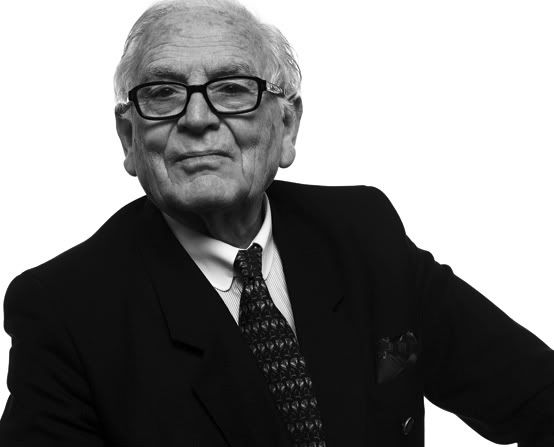 "I like designing out-of-context, without the limitations of angles, corridors, rooms or walls. It's all the same to me, whether I am doing sleeves for dresses or table legs."
Cardin was educated in central France. Beginning his career early, Cardin, aged 14, worked as a clothier's apprentice, learning the basics of fashion design and construction. In 1939, he left home to work for a tailor in Vichy, where he began making suits for women. During WWII, he worked in the Red Cross, launching humanitarian interests that continue to this day.
In 1945, Pierre Cardin moved to Paris. Here, he studied architecture before working at the design house of Madame Paquin. Following this period, Cardin moved on to work for the fashion house of Paquin and then Elsa Schiaparelli. Later, he met Jean Cocteau and Christian Berard and collaborated with them in the design of masks and costumes for films such as La Belle et la Bête (Beauty and the Beast) in 1946.
February, 1946 saw Christian Dior open his doors and he was joined by Cardin for three years as tailleure atelier. Cardin went on to found his own company in 1950, located at 10 rue Richepanse, designing masks and costumers for theatre. His career truly began when he designed 30 costumes for a grand masquerade ball at Palazzo Labia in Venice on 3 September, 1951, hosted by the palazzo's owner, Carlos de Beistegui.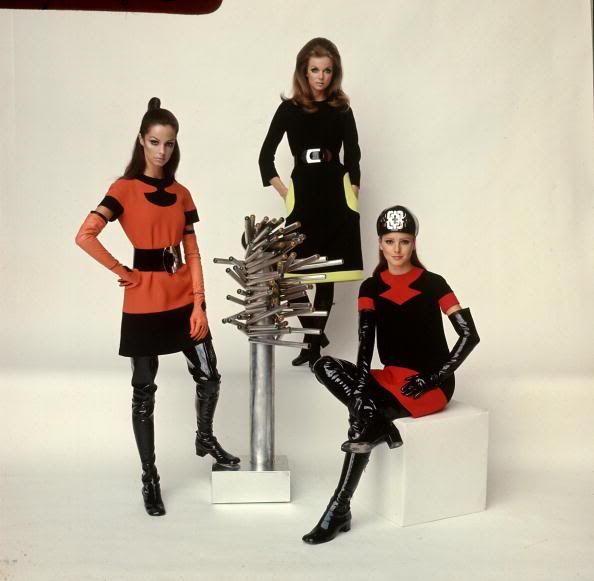 He began with haute couture in 1953, calling the premises Maison de Couture, and here presented his first ladies collection. In 1954, Cardin's Bubble Dress took the world by complete surprise and propelled his name into the fashion realm, as he opened his first boutique, Eve, in Paris, which was followed by Adam, specialising in menswear, in 1957.
For men, he proposed collarless buttoned jackets, favoured by The Beatles who asked Cardin to design their wardrobe. Cardin also designed the suits for the character of John Steed in the now cult TV series, The Avengers.
Cardin was the first couturier to look to Japan as a market for high fashion. Travelling there in 1957, he was made an honorary professor in Bunka Fukosa design college, where he lectured for a month. The impact of his time there was seen in 1962, when the college launched its Pierre Cardin prize, awarded to the best design student annually.
In 1959, Cardin was expelled from the Chambre Syndicale for launching a ready-to-wear collection for the Printemps department store as the first couturier in Paris, but was soon reinstated. The ready-to-wear collection was a great success with women. Commenting on it later, Cardin said that he "didn't want fashion to go on being an exclusive privilege of the well off".
During the 60s, Cardin began a practise that is now commonplace by creating the system of licenses that he was to apply to fashion. A clothing collection launched around this period surprised all by displaying the designer's logo on the garments for the first time. "Initially, I wanted to create a brand name; now the brand name covers a wide range of articles. I believe my success is total."

As the 60s celebrated youth, Cardin's stance was that designs must be young and without the frontiers of race or nationality. "A great designer must have an ideal to create for, and mine is to create for the young," he added.
Cardin began showing his collections in his own venue, the Espace Cardin (opened 1971) in Paris, formerly the Théâtre des Ambassadeurs, located near the US Embassy. The Espace Cardin was used to promote new artistic talents, such as theatre ensembles, sculptors, authors, actors, directors and musicians. It remains an important venue in the Paris art scene to this day.
Continuously fascinated by geometric shapes, in 1975, Cardin applied his fetish for the bubble to a monumental domestic work which would become Le Palais Bulles (the Bubble House), along with the help of architect Antti Lovag. Cardin furnished the Bubble House with his original creations. The curves of the Bubble House extend over 1200 square metres and contain ten bedrooms decorated by contemporary artists, as well as a panoramic living room.
At the beginning of the 70s, Cardin was enthralled by liquid materials like polyurethane that end up as solid shapes. These materials enabled him to create furniture reflecting his original ideas. In relation to furniture, Cardin has commented that his design impulse was "to not make furniture boring".
October 18, 1977 saw the opening of the Evolution Gallery in Paris, where Cardin presented his first collection of haute couture furniture, Utilitarian Sculptures. The furniture did not relate to function, but concentrated on a style derived from elementary geometrical shapes. Cardin took the rotundas and pyramids found in architecture and presented them on a human scale. He fixated on allowing wardrobes, chests of drawers, shelves and cupboards to exist on their own, without needing to be placed against a wall. They became mobile, functional objects of sculptural integrity.
"My furniture is sculpture. I love working as a sculptor. It is my life, my passion, my happiness, my joy, my reason for working."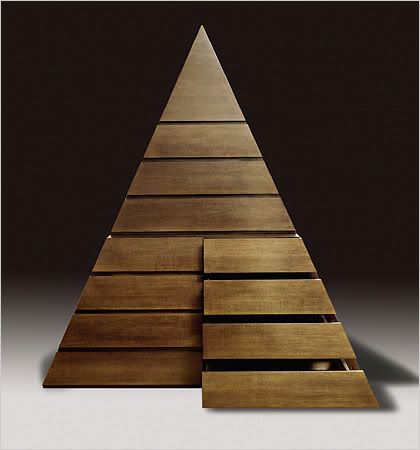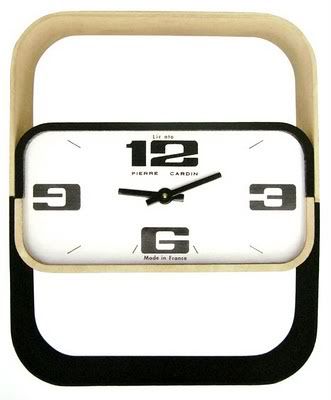 Cardin brought his passion for design to the areas of automobile and aircraft design, also. The Sbarro car featured the same aesthetic traits as his clothing lines and furniture designs for the Japanese market. In 1978, he redesigned the Eldorado Cadillac, of which 300 were made. Its thirty coats of lacquer echoed the same principle of lacquering applied to his top of the range furniture. The West Wind executive jet was entirely designed by Cardin's design studio for Atlantic Aviation in the same year. The result was a virtual flying-office.
In 1980, the Metropolitan Museum of Art, New York, exhibited a 30 year retrospective of Cardin's design work. During his career, Cardin has been awarded many coveted prizes: the Ascot Brun award (1985), given to him for creativity; the Fashion Oscar from the French fashion industry (1985); several Gold Thimbles of French Haute-Couture; the Knight des Artes et des Lettres decoration and the honour of being named the Commander of the Order of Merit by the President of the French Republic, among other recognitions from the industries he has been part of.
Cardin bought Maxim's restaurants in 1981 and soon opened branches in New York, London, and Beijing (1983). A chain of Maxim's Hotels are now included in his assets. A wide range of food products are now also licensed under the name.
In 2001, Cardin purchased the ruins of the castle in Lacoste, Vaucluse, southeastern France, that was once inhabited by the infamous Marquis de Sade; the site has been partially renovated site and now holds music festivals yearly.
Noting his humanitarian interests, Pierre Cardin was designated UNESCO Goodwill Ambassador in 1991. He designed jewellery and a Chernobyl medal, which were sold for the benefit of UNESCO. On 16 October, 2009, Pierre Cardin was nominated Goodwill Ambassador of the Food and Agriculture Organization of the United Nations (FAO).
Cardin revealed an audacious plan to build a 133 metre high fluorescent obelisk near the site of the ancient Alexandria lighthouse in Egypt, which tumbled into the sea approximately 600 years ago. He unveiled a model of the obelisk, which will be covered in mirrored glass, with 16,500 automated lights within, which will cast beams up to 69km out to sea. The Egyptian government has approved the plan.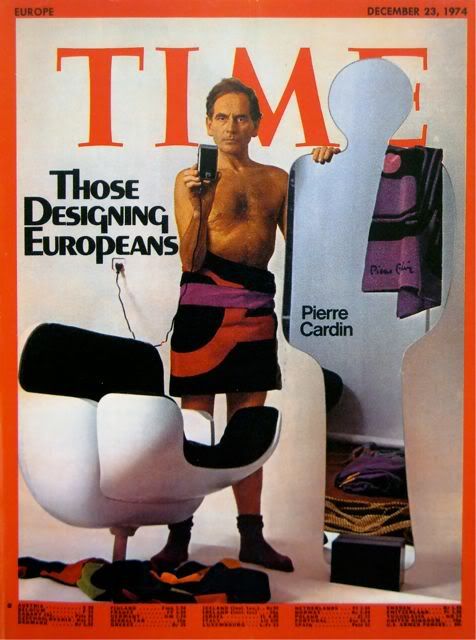 In 2002, marking his 80th birthday, Cardin held a massive gathering at his Bubble House; he revels in throwing parties and entertaining within his liveable piece of sculpture. At another party in May, 2003, in celebration of the release of Terminator 3: Rise of the Machines, he entertained Arnold Schwarzenegger along with 1500 other celebrities. MTV named it the 'best party ever'. Cardin added: "All my life I have had big parties, and I am going to go on having them."
Cardin, now 90, continues to design and exhibit his unique and always fascinating take on fashion and furniture.
If you enjoyed this profile piece, please comment below.
References:
- Langle, E (2005). Pierre Cardin: Fifty Years of Fashion and Design. London: Thames & Hudson Ltd.
- Loyaulté, B (2006). Pierre Cardin: Evolution, Furniture and Design. Paris: Flammarion.
Image references:
'Space-Age fashion by Pierre Cardin' http://www.revelinnewyork.com/blog/11/12/2009/pierre-cardins-space-age-fashion
'Le Palais Bulles, the Bubble House' http://www.coletterie.com/fashion-history/pierre-cardin-geometric-guru
'Pierre Cardin wooden pyramid unit, 1977' http://designbyproxy.blogspot.ie/2011/11/pierre-cardin.html
'Pierre Cardin table clock, 1970' http://mondo-blogo.blogspot.ie/2010/08/pierre-cardin-furniture.html
'Pierre Cardin and the West Wind executive jet, 1978' + 'Pierre Cardin on the cover of Time magazine, 1974' http://mondo-blogo.blogspot.ie/2010/08/pierre-cardin-man.html
'Pierre Cardin coffee table' COMING SOON to Mid-Century Online
*All other images exist within the Public Domain