A designer-pioneer of the Modern movement, Milo Baughman without doubt is revered within mid-century modern furniture circles. His name is also solidly linked to the ideas that defined his timeless work: simplicity, distinction and enduring appeal.
Born October 7, 1923 in Goodland, Kansas, Milo Baughman moved with his family to Long Beach, California. Famously, at the age of thirteen, Milo was given the task of designing both the interior and exterior of the new family home.
Following high school, his hopes of becoming an architect were interrupted by World War II. Baughman served four years in the Army Air Forces, during which time he was active in designing officer's clubs. After the war, he returned to Southern California to study product and architectural design at the Art Center School of Los Angeles and at Chouinard Art Institute, which later became the California Institute of the Arts.
Milo Baughman for Pacific Iron, Featuring Olga Lee Lamp
Milo Baughman designed for a number of furniture companies starting in the mid-1940s, including Pacific Iron, Martin of California, Mode Furniture Manufacturing Co., Glenn of California, Drexel, Calif-Asia, Fine Arts, Unity Cabinet, Murray Furniture and The Inco Company, among others.
1950 – Pacific Iron, Martin of California,
1951 – Mode Furniture Manufacturing Co., Glenn of California
1952 – Drexel, Calif-Asia, Fine Arts, Unity Cabinet
1953 – Murray Furniture, Inco
1954 – Thayer Coggin, Jacksons
1955 – Arch Gordon
1962 – Directional
1967 – Lane
1976 – George Kovacs
In 1947, Baughman founded Milo Baughman Design and began what would become a brilliant career as a furniture designer and educator. During this time, Milo ran his own custom design shop with Olga Lee (his wife at the time) in Los Angeles from 1951 to 1953. The Baughman-Lee showroom was located at 744 1/2 North La Cienega Blvd., Los Angeles. Lee contributed hand-printed fabrics, wallpaper, lamps and accessories to accompany Baughman's furniture designs, while both offered their services as interior designers.
Milo Baughman and Olga
His original emphasis on 'high style, low cost' furniture helped enormously in the establishment of Thayer Coggin, Inc., who remained his main account right up until his death in 2003. Both Thayer Coggin (the business's namesake) and Baughman died in the summer/autumn of 2003, just a few weeks apart, symbolically marking the death of a relationship that, from its birth, spelled remarkable success for both men.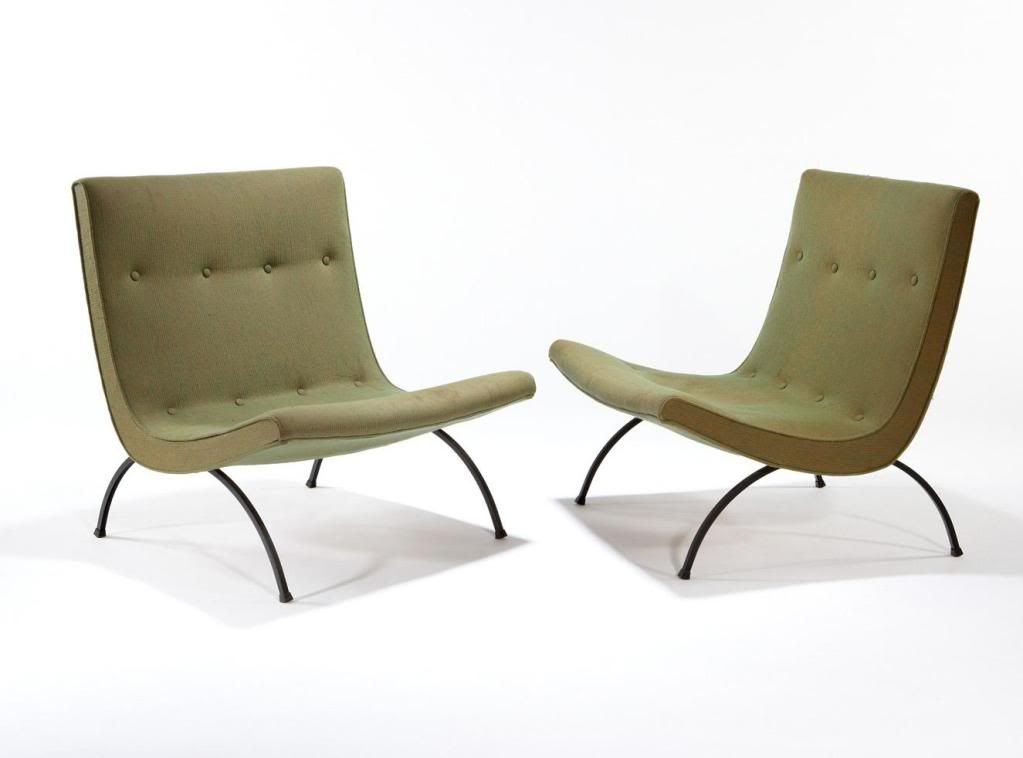 Thayer Coggin was the upholstered furniture contractor for Murray Furniture's 1953 'Milo for Murray' line of home furnishings. The 'Milo for Murray" group lasted only a few short years, ceasing production around 1956.
The idea of producing 'affordable furniture' became buzz words for the 1950s furniture industry due to the very favourable home loans then available to returning GIs, as part of the GI Bill.
The two men began their partnership in 1953, when Coggin and Baughman were both 29 years old, and their only salesman was even younger. "In a way, Thayer and Milo got their start together," according to Dot Coggin, Thayer's wife and spokeswoman for the 59 year old, furniture business success story. "Milo came here when the company was in its organisational stage. Thayer was looking for a designer and their relationship began with a handshake agreement."
Before that, Baughman and his wife, Carolyn, were raising black Angus cattle on a ranch in Patrick County, Virginia, where they reared their four children: Gary, Debra, Tracy and Mark.
Milo Baughman Bench for Glenn of California
From the beginning, Coggin's selection of Milo Baughman produced an award-winning team that was on the cutting edge of new directions in design and manufacturing excellence in the United States.
In its earliest days, Thayer Coggin was a small, High Point (North Carolina) furniture-maker known for the 'jack-knife-style sofa beds' it sold to Sears, Roebuck and Co. The Baughman-Coggin union started with the 1953 collection of two sofas and a chair. Baughman once mentioned that his early work was "very modern, [with] clean lines and light in scale". They were designed for people who "didn't have much money but had good taste".
Despite Baughman's very real interest in modern, affordable design, many well-informed in the field of retro furniture creators and creations are quick to highlight that the materials preferred by Baughman (and Coggin) didn't entirely allow for his thoughtful goals to be realised.
An interview with Milo Baughman in a 1970 issue of Architectural Digest revealed a designer a little uncomfortable with his success and critical of his, mostly wealthy, customers. "Taste is more often determined by social and economic considerations than it is by honest expression of spontaneous, innate preference," Baughman commented. "True and lasting glamour is always something that other people seem to have; it is not very enduring for most of us, no matter how fancy our surroundings. Over-concern for the appearance of the home can be a way of hiding from the living that should be going on there."
By the 70s, Milo Baughman's name was tied to modern furniture and his works became such icons of modern design that some ended up in several museums, including New York City's Whitney. Yet, Baughman continued to wonder about his true role and contribution to modern design.
"I have wondered somewhat uneasily about the outcome of much of my design work: Am I contributing to the delinquency of the rich and the nearly rich? Does my work entice people to think too much of throwing out the old and putting in the new? Does my design require a consistency in the aesthetic statement that discourages ordinary people from ever trying to do it themselves for fear of making mistakes? I am not sure, but I am concerned."
Milo lectured regularly and often spoke about the positive impact that good design can have on the lives of human beings. In 1969, he was invited by Brigham Young University to establish a Department of Environmental Design, where he continued as chairman and adjunct professor for several years, while continuing his design business.
Following his stint as chairman of BYU's Department of Environmental Design, he moved to Virginia for twelve years, and then back to Utah, where he was a senior lecturer at BYU for another nine years. Baughman also lectured at Rhode Island School of Design, the University of Tennessee, the University of Wisconsin–Madison and North Carolina State, among others.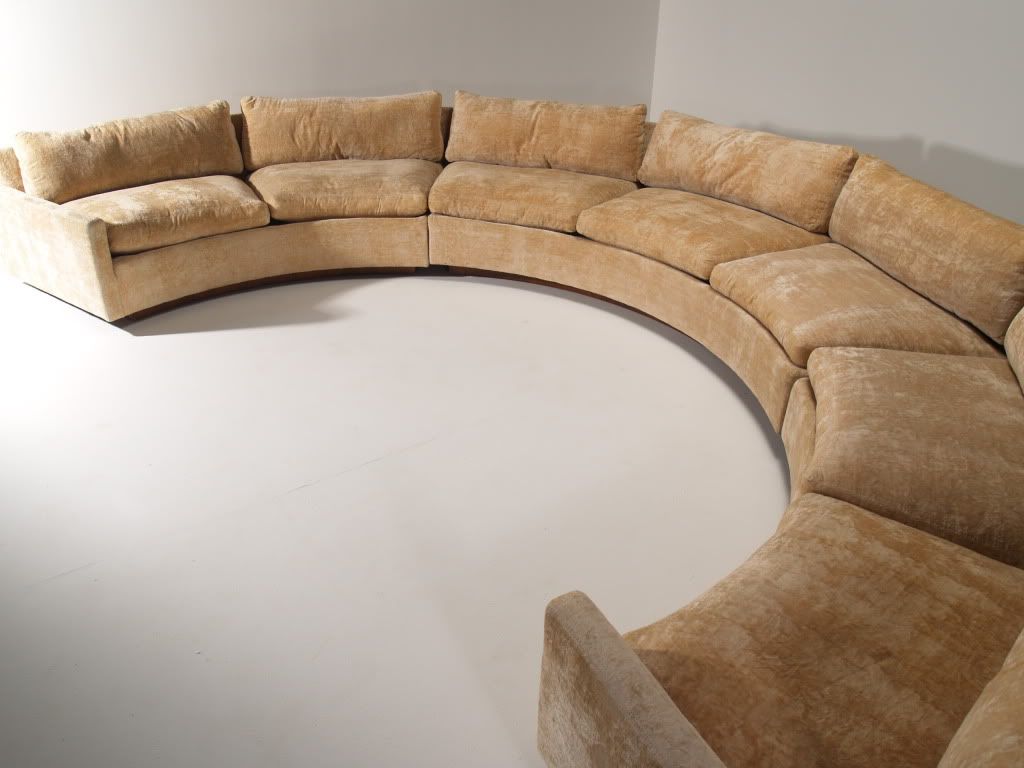 Sectional Sofa for Thayer Coggin
Throughout his career, Baughman stood by his views on furniture design and its role: "With an on-going interest in 1950s and 1960s design, a lot of my work has been reintroduced and been very well-received. Increasingly, architects are using these mid-century classics from the pioneer producers of this period. I understand because I admire these as well, but it's a bit unfortunate for current designers with new interpretations of Modern. Going back to the 'classics' is playing it safe, which limits opportunities for new concepts in design."
Milo Baughman was welcomed into the Furniture Designer's Hall of Fame in 1987. Essential to Baughman's design philosophy was the belief that good design is enduring design. Baughman's characteristic restraint does not allow the look of mere novelty to enter in. Rather, he achieved a look that is uncompromisingly modern, but which never disrupts the timeless standards of classic good taste. Similarly, the easy-going Baughman's wider attitude was as strikingly simple and fresh: "The purpose of trying harder, and of eventually achieving, is to gain happiness. This is what it's all about."